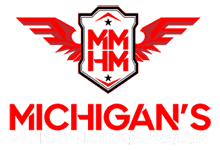 BY Admin
May 26, 2023
History and Heavy Metal
When the museum opened in 2016, one of our objectives was to focus on the centennial of World War One. The State Chairman of Michigan's WW! Centennial was a member of our Board at that time and is now our Board Treasurer. The Commission was tasked with many events to include monument re-dedications, education and public speaking events, highlighting exhibits, social media and video content and more. Little did we know that we would end up on stage and broadcast live Worldwide as part of the Centennial events!
Late in 2017 our current Board Vice-Chair Kevin brought an idea to the table about contacting the band Sabaton and presenting them with an award for their contributions to educating their fans about history and war. The idea was floated to Michigan's WWI Centennial Commission and it was agreed that through song and video, many were introduced to history that otherwise may not have had an interest. The idea of a certificate and a military style challenge coin was settled upon and we proceeded with the plan to contact the bands management.
Kevin attempted to make initial contact to no avail. He returned with an alternate e-mail address and once again we reached out to the bands management (or so we thought). This time there was an almost immediate response! We received a direct message from Bassist and founding member Par Sundstrom stating that he thought the idea sounded interesting and asking for a few more details about the WWI Centennial and the Museum. Thus began a pretty amazing multi year journey!
After working out many details with Par and their Tour Manager, we were invited to their show in Grand Rapids in February 2018. We had to arrive early in the day to be a part of soundcheck and to rehearse the timing of the presentation as the band and their production crew were adding a video component to the presentation as they tour with a giant digital screen. All went well with rehearsal and towards the end of an amazing evening of music we were invited onto the stage to make the presentation. What we learned from that point led to an amazing relationship with this band from Sweden who keeps the stories of service and sacrifice alive. Certificates and coins were handed out, we had an amazing photographer in Life in Michigan's Chuck Marshall doing photos from the front of the stage and the crowd of thousands was roaring when the band held up their awards and proceeded to play a song about WWI. As we left the stage happy about how this group of Swedes helps young people become interested in history, I was mobbed by several veterans! All began sharing their love for this band, their stories and what it meant to them to see this presentation. To say that we were stunned is an understatement! We went in thinking about school kids and education and never thought we would meet so many veterans who also appreciated this unique way of storytelling!
When the dust settled and the band moved on to the next show in the next city, I returned home. At home my Wife and Daughter showed me that the band had live streamed the show and our presentation to more than a million fans Worldwide! Once again messaged Par. I told him about the experience with the veterans and how we totally missed that when making the presentation. In many follow on discussions we also got him connected to the US WWI Centennial Commission. In 2019 we were stunned as the band announced their newest album "The Great War" with all of the songs dealing with WWI. The US Commission along with us worked with the band and when they toured North America each show opened with a 3 minute video about the Doughboy's narrated by Actor Gary Sinise! This was followed by a text to donate number so that money could be raised for a WWI monument in our nations Capitol as none exist. We met again in Cleveland as guests of the band and prior to the concert we toured the WWII Submarine USS Cod with members of Sabaton, Hammerfall and Detroit's own Halloween. The show was sold out, the Great War album hit number 5 on the US Billboard Album Sales Chart and we were included in an official music video for the song "Devil Dogs" about the Marines at Belleau Wood! Once again the band moved on to the next city and we made plans to collaborate and visit again.
Sadly, the tour was cut short, the World came to a halt and the menace of Covid 19 took over nearly every aspect of our lives… The band was stranded in Russia and Par had to pay for the crew to get home and also the rest of the band. He was the last one out and touring was no more. With all of the downtime and lockdowns some new material was written. A one off video about the German Battleship Bismarck was released as a free download for the fans, and a couple of other singles were released,but no tours. Then, in late 2021 Sabaton joined the legendary Judas Priest on their 50th anniversary tour. Covid policies were still strong and while we talked frequently, we could not meet up at the concert. That said, we were invited and we arrived at Detroit's legendary Fox Theater with two beautiful pieces of art depicting Bismarck. We met with management and they insured that the paintings were signed and received backstage pass stickers. We were given front row seats for the show and it was both sad to not visit with our friends, but in hindsight fantastic to be able to see a show as the pandemic was still raging. Little did we know that within 10 days all would come to a halt for our friends and once again the tour would be cancelled and Par would have to finance the crews return to Europe. This time it wasn't Covid, instead Judas Priest Guitarist Ritchie Faulkner would suffer a heart aneurysm on stage and require 10 hours of life saving surgery.
In true Sabaton fashion, they went home and decided to do another album. To say the Great War floored us in 2019 was nothing compared to what would follow! The War to End All Wars would add 11 new songs to the WWI theme and would then be followed by a set of three EPs, each featuring another new WWI themed song. Soon we were contacted about using the Gary Sinise video and fundraising link for a new North American Tour. We did some checking, the video was good, the link still worked and Sabaton along with Dutch Symphonic Metal Band Epica came to North America in the fall of 2022. Sabaton headlinig, no Covid restrictions and two Michigan shows with a day off in between.
We worked on a detailed plan with the band. We met in Detroit and traveled to Jackson where we spent some time in the outdoors shooting various military weapons. Then we headed to the museum where the band met WWII Pearl Harbor Survivor, Captain Herb Elfring (100) and Battle of the Bulge Survivor PFC Leonard Gyles (101). The veterans told their stories to the band who listened intently. Laughs were had, photos were taken and memories were made. Museum staff and volunteers were all invited to the shows and in Detroit we spent more time after the show just talking history, travel and music of course. On day three we once again traveled to Grand Rapids for another show and yet another long overdue presentation to the band from the US WWI Centennial Commission for their effort in fundraising. The Commission representative was not able to be in Grand Rapids due to a funeral so once again we had to present on stage. As always the crowd was energetic and there were many veterans. It was an amazing and exhausting 3 days among friends and as always the band moved on to the next city and we returned home. This time we had many great pictures and new video as well as new friends.
The band returned to Europe where as of this writing in late May of 2023 they just completed a huge arena tour. We returned to the museum and have worked on many new projects to include exhibits, restorations and more. We remain in touch with our Swedish friends on a regular basis but we know that the WWI chapter of their journey is now over as far as any new music and stories. What the future for Sabaton holds is known only to them. When they return to the US is also known only to them at this time. Is our journey over with Sabaton? Not by a long shot! Something big is coming and you will all be invited no matter where you live! So, we hope to see you soon and we hope you can join us on our Heavy Metal History journey as it is open to all and has been great fun! Stay tuned for how and when…